The air temperature was 24 degrees F.
Snow flurries reported at airport
Winds: NW at 20 mph
Chill factor about 7

The Post-Dispatch said:

The water was a shocking 33 degrees. There was no refuge in skimming above the Mississippi River, not with 24-degree air and a brisk wind.

The 32nd annual Polar Bear Water Ski Show at the riverfront Tuesday demonstrated the bravery and hardiness -- maybe insanity -- of 26 skiers who took the lung-jarring plunge to raise money for the Missouri Disabled Water Ski Association.

Kevin Day, who skis alongside his wake-boarding dog, Brown Sugar, thought he was in the water at least 10 minutes. "When I got out, my feet were as red as Santa's hat," Day said.
---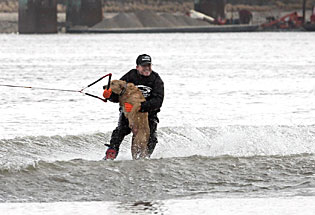 Kevin Day of St. Louis skis Tuesday on
the Mississippi River with his Labrador
Retriever, Brown Sugar (Sarah Conard)
---