Parasailing
Puerta Vallarta - 2008
---
---
Thanks to the Kehlers, we were in Puerto Vallarta, Mexico the week of January 5 - 12, 2008. Larry and Ann invited us to stay with them in their condo on the beach. (Here's a map.) It was a very nice 3 story unit right on the ocean with pool and hot tub. The Pacific was a bit too chilly for any of us to swim, but we did see some locals, refueling fishing and speed boats in the water up to their necks.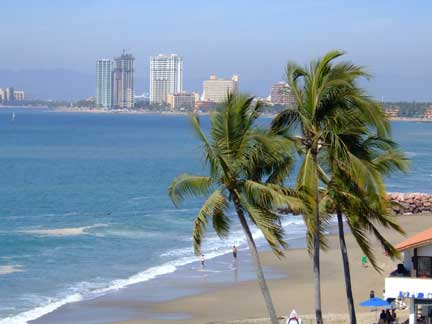 The view north from our balcony. Although on the beach, the condo is located in a part of town where locals live and work. A little auto repair shop was across the street, street vendors and small tiendas close by. We walked or rode buses to get around. As you can see, big-time development is underway to the north.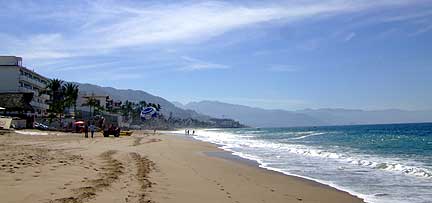 The view south. That 'chute looks interesting.

Very interesting.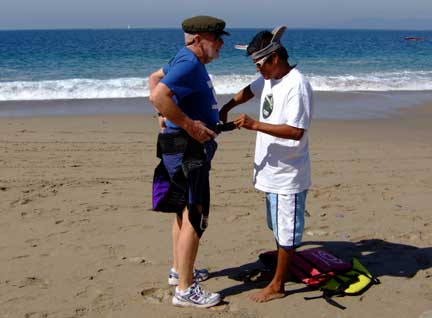 Let's get hooked up and take a flight.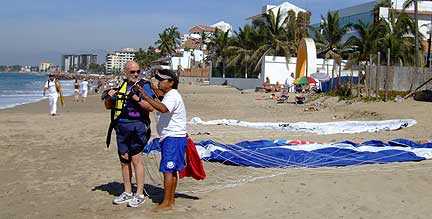 Pre-flight instructions in spanish. I'm pretty sure he said "to go left (to get back on the beach) pull on the left shrouds until I blow my whistle."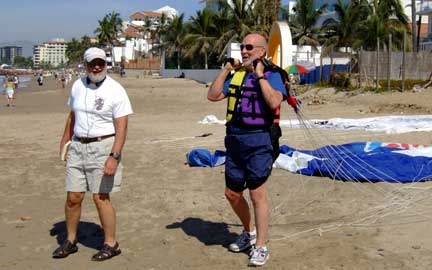 Larry shows up to tell me about all the frayed lines he's noticed.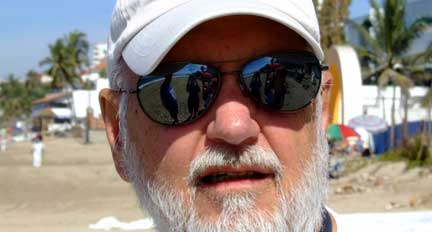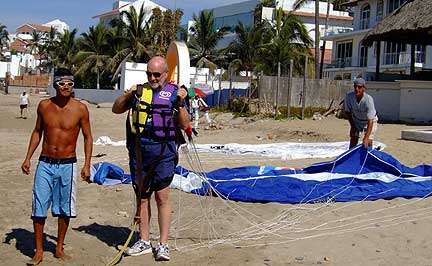 Waiting for the tow boat to take up slack, beach crew boss Pepe lifts the chute for the wind to inflate it.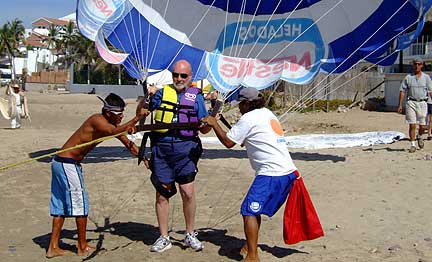 When the line's taunt, two steps and you're airborne!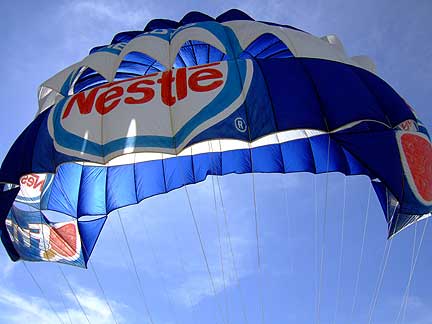 The 'chute from the rear. (All parasailing photos by Phyllis.)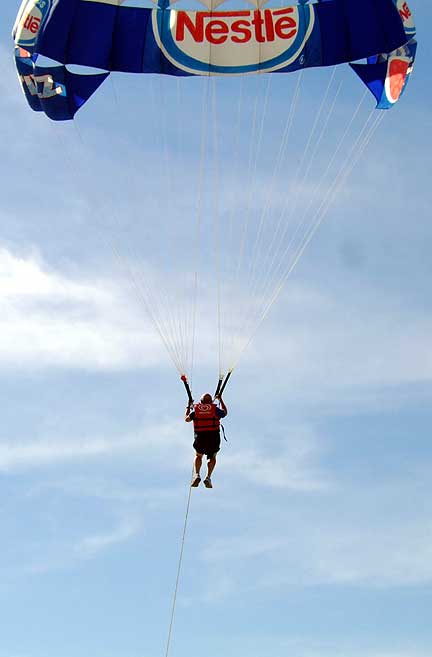 The climb is pretty quick.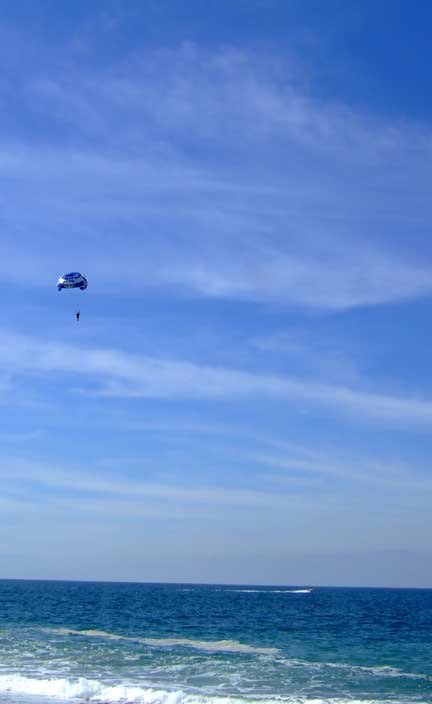 I wished I had taken my camera. We figured the tow line was about 200 meters in length; maybe more. Views were fantastic.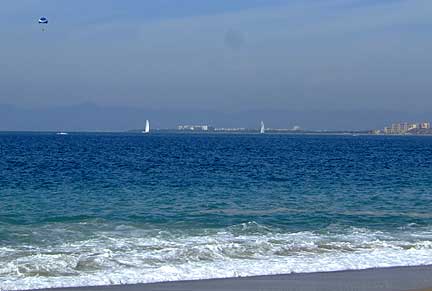 Those sails belong to two Australian 12 Meters used in The America's Cup. Larry and I visited the marina and saw them at anchor later in the week. Their masts are really tall.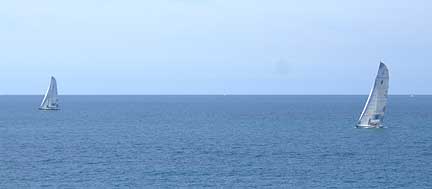 The two 12 Meters sailed by our condo the day after my flight.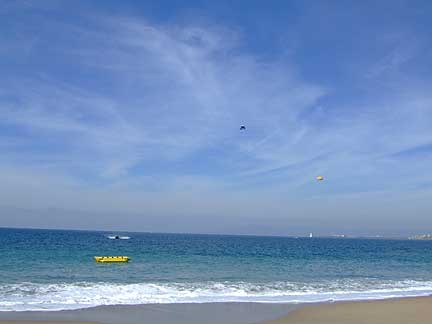 The yellow towable is where they moor the 350 hp tow boat while waiting for customers. That's the boat right above the mooring.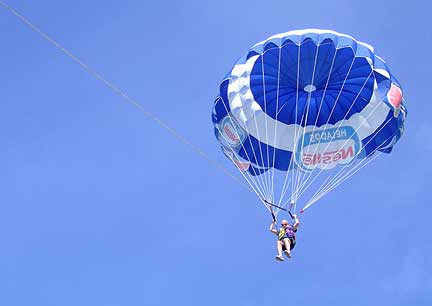 The boat slows, causing my descent. The boat driver is really good. I landed right on my take-off spot.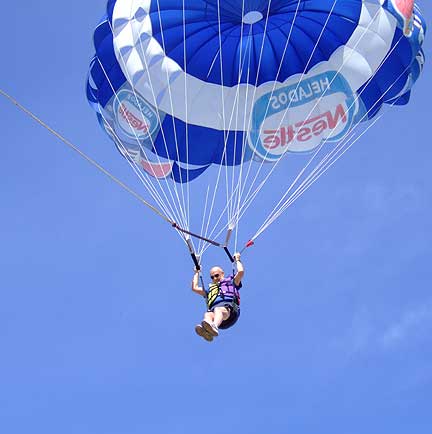 Ready to land.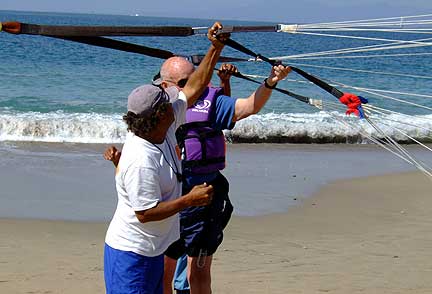 Out of the harness.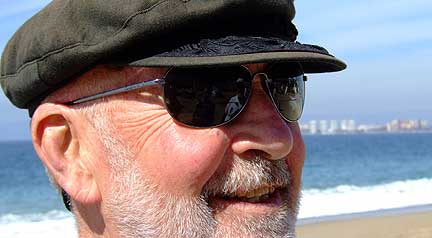 A great ride! I asked Pepe to take me up again (without charge) as advertising for more customers. He refused my offer.
HOME

Another pretty good web page by Grant MacLaren
(Made on a Macintosh, of course.)
This page was posted January 13, 2008.