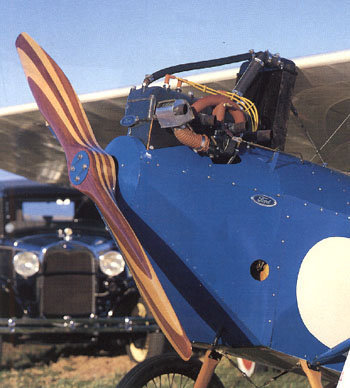 and first flew N600HH in 1974. Years before building the Thorp he had re stored a J-3 Cub in which he learned to fly. And then there's that well used fab ric and steel tube Sky Coupe he and some Chapter 32 friends built in his basement. Also, much of the restoration of Lindbergh's personal Monocoupe now hanging on public display in the passenger terminal at St. Louis' Lam bert Field was due to Howard's know how and craftsmanship.
So, I thought, "He certainly knows what he is doing when it comes to airplane building, but ... a flying Model A?"
For the next few years I watched Howard select and shape wood, metal and fabric according to sixty year old plans. During that period he and I annually attended a Pietenpol mecca -- Brodhead, WI. Every year, on the first weekend of EAA's Oshkosh meet, a wonderful bunch of Pietenpol enthusiasts gather to camp at that small southern Wisconsin town's grass air field and share old and new experiences with this patriarch of homebuilts. Anyone who even thinks about building a Piet should make Brodhead attendance an absolute prerequisite to any further activity! It's also a sure cure for builder's burnout.
(Another hint for prospective builders - Join the Buckeye Pietenpol Associa tion. The quarterly newsletter itself is worth the $7.50 annual dues and other membership advantages are priceless. Send your check to BPA Newsletter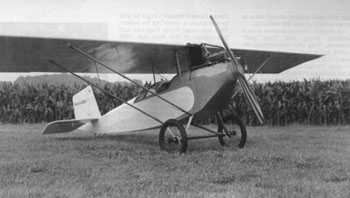 18 FEBRUARY 1989