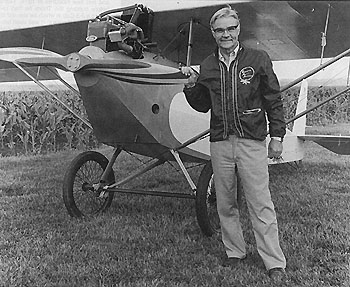 Howard Henderson and the Pietenpol he built from original plans
idea that sport aviation doesn't have to be an activity of only the well-to-do.
It's not that Howard believes there's anything wrong with "high tech" airplanes. They offer convenience, reliability and a level of performance unheard of in the "good old" stick and fabric days. It's just that Howard believes good airplanes can be built and enjoyed at a nominal cost. And, every so often, he proves it.
It must have been at Oshkosh '84 that Howard, partially just to maintain the vigor of the build-from-scratch home built movement, wondered, "Why not turn to the pages of the old Flying and Glider Manuals and build one of those airplanes that many dreamed of in the '30s, '40s and '50s?"
I guess it was in answer to his own question that, when he returned from Oshkosh that summer, Howard decided to build another airplane. He told me this one would be powered by a Model A Ford engine and he'd build it for less than $3000!
Knowing of my interest in Model A Fords, Howard thought I might be able to help locate a "motor" for his project. That was easy! Henry Ford had built five million of 'em from late 1927 through 1931, and the car restorers seem to know where many of them are today. A few weeks later we attended my local Model A club's annual parts swap meet and came home with Ford engine number A2526792. Checking a reference book, we found it had come off Ford's Rouge assembly line in the summer of 1928. The engine's owner was asking a reasonable price, its bearings were freshly babbitted, cylinders bored, its crank and cam ground. It had been align bored and had new pistons and rings. One rod needed to be replaced but Howard was satisfied it would provide the basics for a powerplant for his soon-to-be built aircraft.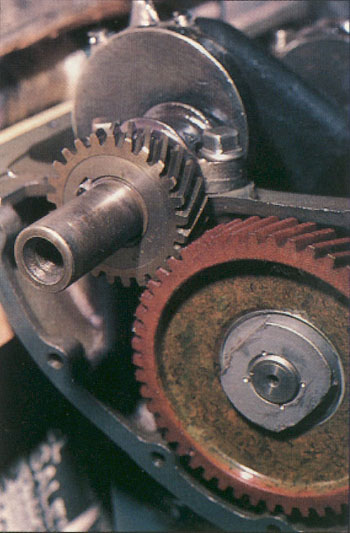 The Model A Ford timing gear
Like many first hearing of the seemingly unlikely use of Model A engines in airplanes, I had my doubts. But Howard was the expert. After all, l'd ridden with him on many trips at 6000 feet and 160 mph in his homebuilt T-18. He finished
SPORT AVIATION 17